Ashford University
Students can earn associate's, bachelor's, and master's degrees online at Ashford University. Keep reading to learn more about what Ashford University offers its students.

Learn About Ashford University
Ashford University provides students with flexibility as they earn associate's, bachelor's, or master's degrees online in areas like business, education, health care, and criminal justice. The University provides online tools and a mobile app to help students stay connected to their instructors and classmates. Students also enjoy a supportive learning environment that is another component of the modern college experience at Ashford University.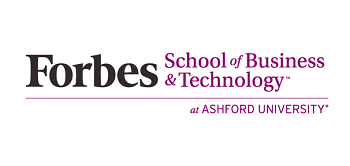 Online students can enroll in programs offered through Ashford's four different online colleges, including the Forbes School of Business & Technology™. The business programs include high-quality courses that embrace the technical knowledge and critical-thinking skills needed to communicate ideas in a collaborative environment. Students also have access to a variety of Forbes resources, including the Distinguished Speaker Series, a renowned board of advisors, and webinars featuring Forbes business experts. Qualified students may also apply for the Entrepreneurship and Senior Project Scholarships.
Students who plan on earning both a bachelor's and master's degree can take advantage of Ashford University's Smart Track option. This option gives eligible students the chance to earn up to nine graduate level credits that they can apply to both degrees at Ashford University.
Ashford University's Mission
The mission of Ashford University is to provide high-quality, accessible, affordable, innovative, educational programs that meet the diverse needs of individuals pursuing advancement in their lives, professions, and communities.
Minimum Eligibility Requirements
All programs require applicants to have graduated high school.
Student Testimonials
'There are plenty of resources available for help, and I wanted something online that was flexible. Ashford seemed to fit those requirements, and I decided to make a call.' -Chris Klasen - BA in Business Administration, 2015
'My next goal is to begin working on my graduate degree. The sky's the limit! I know in my heart I must do everything within my power to continue to build upon the foundation that's been established by the great faculty and staff at Ashford University.' -Vanessa Valente Perryman - Bachelor of Arts in Organizational Management, 2015
What Ashford University Provides:
Relevance: Students have a chance to gain modern knowledge in a variety of in-demand fields.
Technology: The Ashford Mobile App, coursework content in the cloud, and the Student Portal help students learn, study, and stay connected wherever they are.
Prestige: High-achieving undergraduate students can enroll in Ashford's Honors College, where they have the opportunity to enhance their degree programs with advanced curriculum and receive special recognition during graduation.
Community: The diverse group of students, faculty, and alumni create a supportive learning environment.
Support: Students are supported by advisors, faculty members, mentors, writing consultants, librarians, career services specialists, and more while on their path toward earning a degree.

Ashford University is accredited by WASC Senior College and University Commission (WSCUC), 985 Atlantic Avenue, Suite 100, Alameda, CA 94501, 510.748.9001, www.wascsenior.org.
Certain degree programs may not be available in all states.
Ashford University is accredited by WASC Senior College and University Commission (WSCUC), 985 Atlantic Avenue, Suite 100, Alameda, CA 94501, 510.748.9001,
www.wascsenior.org
Successful completion of an online degree program from Ashford by itself does not lead to immediate licensure in any field. Certain professions require that you pass a licensing exam in your state, take additional coursework, or obtain experience. Requirements vary by state, so students are encouraged to research the requirements for the state in which they plan to become licensed. If you want to become a classroom teacher, contact your state's education authorities prior to enrolling at Ashford to determine what state-specific requirements you must complete before obtaining your teacher's license.